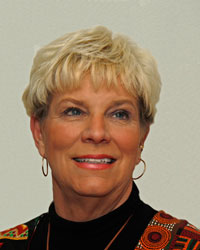 Leslie Peacock is an award winning wearable artist and teacher. Originally from California, Leslie moved to Payson, Arizona in 2005 with her husband, Steve. Prior to moving to Arizona, Leslie owned and operated a china painting studio, as well as working full time in the field of law enforcement.
When Leslie retired, a friend suggested they take a quilt class together to have something "to do in retirement". After one class, Leslie decided that she preferred to "wear her quilts". Leslie has sewn garments for over 40 years, learning to sew at her mother's side when she was a child. By designing and making the majority of her clothing all through high school, college and then in the work force, the transition to wearable artist just came naturally for her. She has created a line of patterns called "I'm Wearing My Quilt©". These patterns utilize quilting techniques to teach the making of garments. Leslie soon discovered when she began teaching, many quilters wanted to make garments, but had never sewn anything but quilts. So, using her sewing skills, she created a unique way of teaching wearable art.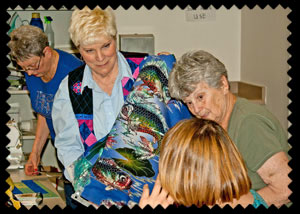 Leslie's wearable art garments have won awards at the Pacific International Quilt Festival, Santa Clara, California; the Glendale Quilt Show in Glendale, California; the MQX Quilt Show, Manchester, New Hampshire; The Road to California show, Ontario, California; the Northern Gila County Fair, Payson, Arizona; the Strawberry Patchers Quilt Show, Pine, Arizona; the Quilt and Stitch Expo, Pueblo, Colorado; the Rim Country Quilt Round-up, Payson, Arizona; Quilter's Treasure, New Hampshire; the Mid-Atlantic Quilt Show in Pennsylvania; and the Valley Quilt Show in Visalia, California. Many of her garments have won Best of Show awards in local and national quilt shows. Her garments consistently travel with the Hoffman Challenge Show and her garments have been shown on the runways of the RAGS Show in Washington State and at the Fine Line Creative Arts Center in St. Charles, Illinois. Her garments have also appeared in Belle Armoire magazine.
Her garments were featured in a special showing at the Rim Country Quilt Roundup in 2009 and, in May 2010, she was privileged to be the Artist of the Month at the Artists of the Rim Gallery, Payson, Arizona. In July, 2010, she was the Featured Artist in the Arizona Quilter's Hall of Fame.
Leslie continues to take classes to keep up with the ever growing field of wearable art. She has taken classes with Stephanie Kimura, Louisa Smith, Judy Murrah, Rachel Clark, Sharon Schamber, Ellen Anne Eddy, Anita Luvern Mayer, Brenda Henning, Laura Wasilowski, and Gina Perkes, to name a few.
She belongs to the International Quilt Association, the American Quilter's Society, the Arizona Quilters Guild, the Strawberry Patchers, a chapter of the Arizona Quilters Guild, The Wearable Art Connection, the Surface Design Association, the Frill Seekers Fiber Art Group, and the Association of Pacific West Quilters.
Leslie has taught classes in both Arizona and California and willingly shares information to further this art form. She serves as a committee member on the annual Rim Country Round-up show and has chaired the Strawberry Patchers Annual Quilt Show.
She is currently teaching wearable art classes at the Gila County Community College and at the Quilting Sisters Quilt Shop in Payson.